Call 314-270-2000

 for all 24 hour Emergency Plumbing Repairs!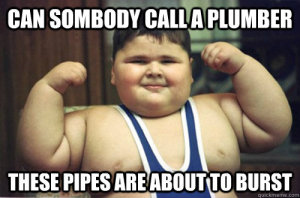 Plumbing professionals are available to service St. Louis, Missouri area homeowners and businesses with the highest quality work. 
⏰ Rapid Response and 24 Hour Service for all emergency plumbing repair needs! ⏰
Our service area is just about everywhere in the St. Louis, MO Metro Area including St. Charles County. We serve Kirkwood, Webster Groves, Ballwin, Manchester, Ferguson, Florissant, Clayton, Wentzville, O'Fallon, St. Charles, Creve Couer, Chesterfield, and so much more. 

---
Water Heater Repair St Louis
Hot water heaters failing are one of the most common calls we get on a daily basis. You can't survive without your hot water heater and it's easy to forget about until it fails. You will not have hot water for your shower, dishwasher, or washing machine. Luckily, replacing your hot water heater only takes us a few hours and you can have hot water back in your house in little time. We have many options and sizes of hot water heaters including your basic 30, 40, and 50 gallon units or the new tankless hot water heaters that give you unlimited hot water on demand. The tankless heaters do cost a little more but they save quite a bit of money in the long run. Whatever your case might be, we can help with your water heater repair or replacement.
Sump Pump Repair St Louis
Finding out your sump pump doesn't work usually means disaster. It's almost always too late and you find your basement flooded. When the rain starts pouring for more than 2 days straight, we get flooded (no pun intended) with these types of calls. We replace all makes and models of sump pumps and we also do testing on your sump pump by request. Along with sump pump replacements, we also do new sump pump installations for the worried homeowner. So if you need a new sump pump or you've found the flood and need it fixed or replaced ASAP, call us immediately. We are happy to help!
Most Common Emergency Plumbing Repairs –
Water Heater Repairs

Sump Pump Failure

Broken or Overflowing Toilets

Water Main Break

Burst Pipes from Freezing

Septic System Repairs or Replacements

Sewer System Repair

Leaking Pipes
---
It doesn't matter what type of plumbing services you need, WE CAN HELP! This is just a sample of our Plumbing Services. —
Installation, Repair, or Replacement:
Kitchen Sinks
Bathroom Sinks
Toilets
Power Flush Toilets
Tubs
Showers
Water Heaters
Faucets
Gas Lines
Washer (laundry)
Dishwasher
Garbage Disposal
Drain Pipes
Water Line/Pipes
Sump Pump
Backflow Protection
Tankless Hot Water Heaters
Septic Systems
Drain Cleaning and Sewers:
Drain/Sewer Line
Main Line
Clogged Drains
Toilets
Septic Tanks
Pipe Repair
Floor Drains
Clear Lines (snaking)
Grease Traps
Drain and Sew
Maintenance, Repair and Care:
Drain and Sewer Cleaning
Update to Code
Pipe Repair and Replacement
Trap Cleaning and/or Removal
Low Water Pressure Diagnostics and Repair
If you are experiencing a water break, burst pipe, or leaking water at this moment you need to watch this video.